Heavy or Light? Three Rep Ranges to Keep in Mind When Lifting Weights.
(BlackFitness101.com) If you are new to the gym, you are probably wondering whether is best to lift heavy or light weights as you embark on your fitness journey. The answer is it all depends on your fitness goals. No two people have the same end goals when it comes to getting fit. Some may want to increase size while the next person may desire fat loss only.
The following are general guidelines for selecting the most effective resistance-training rep range for achieving your exercise goals.
Whichever rep range you choose, it's important to follow good form and use good technique for best results. Also, make sure you do a 5-7 cardio warm-up. And by all means, check with your doctor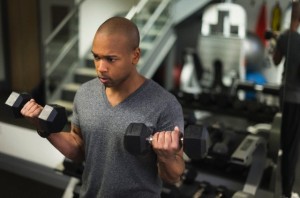 before launching an exercise regimen.
4 to 6 Reps
If your goal is to increase size or mass then you should lift heavy. Lifting four to six reps per set with heavy weights will get you to your goal. Four to six reps of heavy weights should be conducted from a position of leverage, meaning strict attention should be paid to how you are lifting the weight, whether standing, lying down or seated. Lifting heavy from this rep range will result in the most damage to muscle fibers, which is the key to building muscle and increasing size.
One caution here: make sure you have someone spotting you when you lift heavier weights – especially if you are a beginner!
12 to 15 Reps
If your goal is to increase your lean muscle but not necessarily size, then you should stick with the twelve to fifteen rep range, using moderate to light weights. This range gives you the benefit of effecting fat loss while at the same building muscle. The 12-15 rep range is good for those who have concerns about improving bone density in addition to increasing muscle strength. The weights employed for this rep range are moderate but no less attention should be paid to moving the weight in a controlled and safe manner.
20 to 25 Reps
To affect fat loss without building supple muscle fiber, the twenty to twenty-five rep range is your best option. This rep range best mimics the effects of cardio training (providing you are keeping your rest breaks to a minimum) because the weights are generally very light. You will not build a lot of muscle, but you will affect a fair degree of fat loss. Also, the 20-25 rep range is excellent for building endurance.
Selecting the most effective resistance-training rep range is important for achieving your exercise goals.
Staff Writer; W. Eric Croomes
This talented brother is a holistic lifestyle exercise expert and founder and executive coach of Infinite Strategies LLC, a multi-level coaching firm that develops and executes strategies for fitness training, youth achievement and lifestyle management. Eric is an author, fitness professional, holistic life coach and motivational speaker.
In October 2015, Eric released Life's A Gym: Seven Fitness Principles to Get the Best of Both, which shows readers how to use exercise to attract a feeling of wellness, success and freedom (Infinite Strategies Coaching LLC, 2015) – http://www.infinitefitnesscoaching.com.