There is No Shame.
(BlackFitness101.com) Quarantine saw millions of Americans shut in their residence. In that time many of us used this time to try to rest a nerve. Every time we turned on the TV or opened social media we were met with updates, press conferences, and social unrest. That is a very tiring state to be in. With gyms close, and parks closed it was as if we where boxed in with this unknown space. Granted some took time to catch up on sleep, reading, deep cleaning, redecoration, and many other projects. Others were stressed to the max as human interaction was needed, loved ones were dealing with covid-19, or they themselves were dealing with such. There was concern for finances and others were trying to figure out how to feed the family.
In these various spaced you might not have been working out. You may have been snacking to now ends while binge watching various shows just to maintain some form of sanity. Now as things are opening up some you may find yourself looking at the scale cringing. You might have tried to put on your favorite jeans only to go back to your leggings with disgust. Before your mind goes left…there is no shame!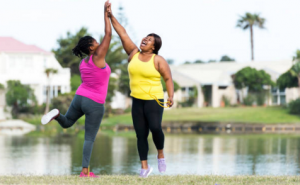 If you are able to bring yourself to workout by all means do so. However, it is important to give yourself some grace. When you worked hard for the gains it can be difficult to see them disappear. It is very easy to start beating on yourself which and spiral one into a state of depression because the jeans don't fit. Please fight the urge to call yourself horrible names. Basically, do not fat shame yourself. You are not responsible for the pandemic, nor what it caused in your life. We are all working our way though this new norm as best as we can. Just as you have focused yourself previously, believe me you can do it again.
Ironically, many of us needed to world to stop for us to take a moment to breathe…or actually sleep. It may be that while you were not working on fitness you were working on mental rest or spirituality. All of these things feed into your overall health and are just as important as your physical fitness.
Let's take life one day at a time. If you have stepped out into creation not feeling like yourself that is okay. Take your time. Your road back to your gains and consistent fitness goals may be as simple as deciding to take a walk. You can move to take control of your fitness by making small adjustments that become bigger until you can get your routine back to a consistency you remember. I can't stress enough how important it is to be kind to yourself. Making the courageous decision to love on yourself fiercely regardless of the scale or jeans can assist with the positivity you need to get back to where you were, and beyond.
Staff Writer; Christian Starr
May connect with this sister over at Facebook; https://www.facebook.com/christian.pierre.9809 and also Twitter; http://twitter.com/MrzZeta.