Leave the Fight Outside the Gym.
(BlackFitness101.com) The gym is the personal battle ground of fitness for many people. It is the space where we come to work on health, better the body, and do so knowing we will be sore the next day. For some they must fight over the anxiety of being seen through the process while others are empowered by the very nature of the fitness journey. Ironically there are people that find their peace in this place of fitness, or torture depending on perspective. They gym is like going to a spa for them. It helps them decompress, work through the issues of life, and by the time they are done sweating the problems away they are re-charged and ready to deal with the world. For those that find the gym to be a sanctuary space drama and toxic energy is quite damaging. Yes, we are all adults and should be able to do as we please, but respecting a public space is important. There is a mental component to fitness that has to be respected.
While looking for a new gym home I realize that the energy of some people is dangerous no matter what space they occupy, and this is not fair to others. People pay anything from 10.00 a month to hundreds a month on gym memberships, and there are even people that have more than one membership as different gyms meet different needs. It is necessary to acknowledge that there are people that pay well for a small slice of peace.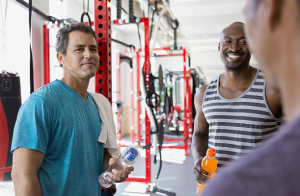 Even if some are just going to the same gym for that torture workout they deserve to do so without drama, yelling, and fighting. It was unfortunate to see fights break out in the gym, more than one gym, as I looked for a new place to work out. What was worse was seeing the effect the fights had on others working out. There were a few people that were visibly disturbed, and they were nowhere near the altercation. One woman walked away shaking her head saying her space was violated.
If there is volatile energy in your life take a moment to try to neutralize it. Life happens, and sometimes we will have issues that don't play out peacefully, but that doesn't justify jacking up someone else's workout space. That the time to have that phone call outside. If there is an issue with another gym member speak to someone in management to try and deal with the matter before it explodes. Furthermore, who wants to get arrested while sweaty after a workout…that's just unfortunate on too many levels. If a fight must happen, please leave it outside of the gym. Allow the space to be a drama free zone.
You never know whose mental health you are sparing by handing your issues outside of the workout space. If someone makes your workout space feel toxic due to loud aggressive conversations, uncomfortable confrontations, or violent behavior please report it. You deserve to have a workout space that is fair to, and safe for, you. Remember though we focus on the physical aspect of the fitness journey in the gym…there is a mental component that is just as important. We want to work on health holistically.
Staff Writer; Christian Starr
May connect with this sister over at Facebook; https://www.facebook.com/christian.pierre.9809 and also Twitter; http://twitter.com/MrzZeta.