Embrace Safe Exercise While Pregnant.
(BlackFitness101.com) Pregnancy in the beginning can present itself in a manner that would make no woman want to take a walk let alone go to the gym. This isn't just the case for women that don't work out…it can even effect those that live in the gym. In the first trimester some moms encounter extreme fatigue, and morning sickness that can in some cases be all day sickness.  However, if you are used to working out regularly you might find yourself feeling sluggish in addition to the other ailments. In one's mind if I just make it to the gym, I'll be able to survive the workout.
This may very well be the case, but it is very important to remember you are not the same person working out before pregnancy. You can't push your body to do the workouts you would normally do without putting you and your baby at risk. It is very important to understand the need for safety from the position of a pregnant lady.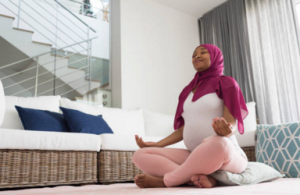 Once you get past the dreaded first trimester you will find that you feel more like yourself. The energy you need to work out effectively is surging once again. You can do your cardio without the same level of struggle and are ready to go full steam ahead working out. This is great, but you might want to consider low impact exercises. You may love resistance training, but you must be mindful of the growing belly in front of you. It is important to consider that your center of gravity is changing. There will be times that you feel stomach heavy, dizzy, or short of breath sooner. It is very important that you pay very close attention to your body when working out while pregnant.
Resistance training if you are feeling strong enough should be low weight and high repetition. Because there could be issues with balance, you'd want to be mindful not to pick up and weights that could cause you to fall over, and you simply don't want to pick up anything that is too heavy. Some pregnant women battle with back pain, sciatic nerve pain, and even numbness in the legs sometimes. All of these things should be taken into consideration when you are able to resume working out.
Talk to your doctor before you go back to working out as they may have some suggestions on how to avoid dangerous situations. If you have a trainer let them know that you are pregnant, and if you are having any pregnancy related complications, so that they can tailor your workouts to where you are at the current moment.
Communication will help you remain safe and allow others to assist you to that end. Staying fit, and active, while pregnant helps regulate weight, blood pressure, ward off gestational diabetes and possibly make your delivery smoother.
You just want to be sure you are safe as what you can, and cannot, do is drastically changing. Even if this isn't your first pregnancy…each experience can present new challenges. Protect you and your baby by exercising safety as you workout.
Staff Writer; Christian Starr
May connect with this sister over at Facebook; https://www.facebook.com/christian.pierre.9809 and also Twitter; http://twitter.com/MrzZeta.