Switch Up Your Workout.
(BlackFitness101.com) Some that are new to fitness find the workout routine to be hard, and they drag themselves to the gym because they feel this is what they should be doing. It is true you can have a very controlled workout, and burn your calories. The problem is fitness encompasses more than the actual workout. If you are dreading going to the gym that is no way to get to your best body. One thing you may notice in the gym is you will see people enjoying their workout.
For some it's a stress reliever, for others it's their me time, but whatever your workout time is you want to enjoy it. Granted every workout has those push though moments whereby it is uncomfortable, but that is different from actually hating your workout. Switching up your workout may help you find a program that achieves your workout needs while allowing you to enjoy the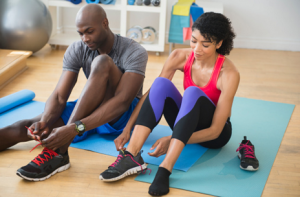 process. There are many ways to get in a good workout. Below are a few ideas of ways you can improve your workout experience.
1. Know yourself. Everyone does not have the same workout needs. You may find that you are a lone ranger which means workout groups for you is like pulling teeth. You may get with a trainer and map out your regime, and then diligently go at it alone. On the other hand, you may be find that working out alone is discouraging, and distracting. If that's the care workout classes, and groups may do wonders for you. It allows you to socialize, and have others around you that are encouraging throughout the workout.
2. A change of scenery may help. Sometimes you may need a break from the gym. Taking your workout to the park in the fresh air may be just what you need. Sometimes interacting with nature simply feels good, and lifts your spirits during the workout.
3. Cardio and resistance comes in many ways. doing something different that you enjoy can also be effective. Playing basketball with friends, or swimming laps at the pool can add variety to your workout. There is no reason to box yourself into one type of workout. If you are having joint pain you may find that swimming gives you your workout, but it is low impact so you feel much better after the workout. Talking to your trainer about different ways to get your workouts accomplished may also help.
Workouts don't have to be a drag. Yes, they are work but we can engage them and still have a good time. You just need to have an idea of what you need, and how that can help you reach your goals. Trainers are a wealth of knowledge talking to them can give you various ideas to choose from. You can also research various workouts and take note of the ones that interest you. You don't just want to exercise for a goal, you want exercise to become a part of your life and wellness.
Staff Writer; Christian Starr
May connect with this sister over at Facebook; https://www.facebook.com/christian.pierre.9809 and also Twitter; http://twitter.com/MrzZeta.