Learning Your Gym: The Elliptical.
(BlackFitness101.com) There are some machines that have a reputation for giving us a hard time in the gym. They are good for us physically, but they are the epitome of "no pain, no gain". The elliptical is a cardio machine that can render great results while being gently on the joints. With that being said this machine punks many gym goers every day. If one can get past its reputation some believe it is a better cardio workout than the treadmill.
One of the major selling points of the elliptical is the protection of ones joints. For some that are just getting back into the gym, have knee problems, bouncing back from injury or dealing with serious obesity this machine doesn't shred your joints. Workouts cause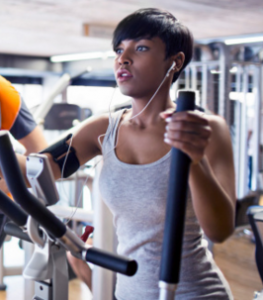 soreness; it is understood that to reach ones goals there will be discomfort and some degree of pain. However, this is not to be mistaken for serious joint pain that can come from high impact machines. The elliptical allows one to get a full body workout, increase the heart rate in a faster amount of time, and it doesn't apply the impact that can further damage unstable joints.
In addition this machine can also help increase, or restore, range of motion to the hips. The movement that is caused also increases balance, which is one of the things the treadmill can alter. This is a great machine to use after surgery to rehab the body. "The elliptical machine improves balance and mobility, and helps you regain motion in the hips gradually, especially after an ACL surgery. There are various hospitals that encourage the use of ellipticals for this very reason. Depending on your level of injury, you can easily adjust your exercise intensity."
Some cardio machines, like the stationary bike, work certain parts of the body. You would have to incorporate other workouts to get a full body effect. The elliptical allows one to engage in a full body workout. There are different levels of intensity one can engage that will make the workout more of a challenge. The very motion of the elliptical pulls on jogging, walking and stair climbing. We can also engage our arms in the workout. Because it allows ones knees to come up there is a degree of our core that is engaged. "Both the upper and lower part of the body get worked out effectively. When you use an elliptical, close to all muscles in the body work at the same time, improving bone strength and formation.
For example, the Proform Hybrid Trainer provides 16 levels of resistance that provides for a challenging workout for the whole body. It ensures more calories are burnt within a very short time span".
The elliptical is a test of endurance. For all of its qualities it's guaranteed to test ones resolve in the gym. If you are used to just the treadmill you will find that your muscles will burn quicker, you will sweat quicker, and you don't have to be on the machine as long. I can admit the elliptical is one of the machines I roll my eyes at, but it gives the maximum cardio workout I need without causing my knees to ache. If you can stick with it the elliptical would be a great addition to your workout.
Staff Writer; Christian Starr
May connect with this sister over at Facebook; https://www.facebook.com/christian.pierre.9809 and also Twitter; http://twitter.com/MrzZeta.