5 ways to JumpStart Your New Year's Fitness Goals for a New You.
(BlackFitness101.com) With the New Year coming that means a New You. Or at least that's the saying. But start now so not to put so much pressure on yourself to get started right on the 1st of the year. It'll be easy to stick to your New Year resolutions or better yet life goals if you start now, right now.
Here are 5 ways on how to set realistic fitness goals for yourself, to create a better and New You for the New Year.
1. Consult a medical professional first.
If you have not worked out for several months or years, or are returning from an injury and want to get back to the gym, ALWAYS consult with a medical professional before starting any program.
2. Set attainable goals.
If you were able to bench 300 lbs in college, that doesn't mean you should try to bench 300 lbs now. Always start out low and slow (just like cooking a delicious stew) and steadily get your muscles used to working out again. Progressively increase weight, and track your progress for all of your exercises. Setting attainable goals may seem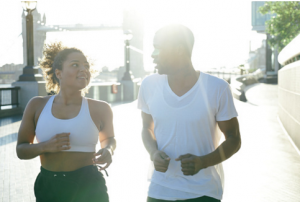 like common sense, but injuries are all too common from taking on too much weight during training. You need to have very specific goals. A goal of, "I want to lose weight" will never work. You need to get very specific. Want to lose weight? Great! How much? Want to tone a certain body part? Great! How many inches do you want to lose? Want to build muscle? Great! How many inches do you want to gain? These are very important questions to answer. If you have no idea what you are doing, find a coach or a trainer to have a consultation with. Be sure to make goals that fit your skill level.
3. Find the right gym or program for you.
There are many places to work out and so many different fitness programs available to purchase. Make sure you don't feel pressured when looking at gyms; you want to feel comfortable when choosing the right fit. Don't pick a place just because it has the best deal. A gym should fit your needs. If you're an athlete, make sure the facility you choose has enough space and equipment to practice for your sport. If you're looking for general weight loss, you'll want a gym with plenty of cardio equipment and free weights. Also don't be afraid to try group fitness such as Zumba, Spinning and step cardio. Group fitness may be motivating for beginners.
4. Prepare to be sore.
When starting an exercise program, you WILL have muscle soreness. This soreness usually occurs 24-48 hours after your workout. If the soreness lasts longer than 5 days or increases, that is a sign that you may have done too much and might need to make an adjustment to your workout program. To prevent overdoing it, start off slow with moderate weight and ease into your training. Progress once you're comfortable with the current weight or rate. Also, don't take on too many exercises at one time. For example, 3 sets of 10 reps for 10 different exercises can add up quickly and lead to injury if your body isn't accustomed to the volume.
5. Don't overdo it this month.
It is very easy to get into the mindset of, "I will get healthy in January, so I'm going to enjoy myself now." This is setting yourself up for failure. The further you have to go to get to your goals, the harder it is going to be. Think about that. If your goal is to lose 20 pounds and you put on five during Christmas and New Year's, that's five extra weeks of work that you just assigned to yourself. You don't have to skip the holiday parties and libations, but moderation is key. That pie might be delicious, but is it really worth adding an extra week onto the work you will have to do next year? Eat small portions, try to stick to the healthier items and don't overdo the alcohol.
Making a plan now, and getting your mind ready to execute it, will help you tremendously when trying to set and accomplish health and fitness goals in 2016. Follow these steps to start preparing now, and remember to ask a professional for help if needed.
Staff Writer; Amber Ogden
One may also view more of her work over at; AmberOgden.com.
Also connect via Instagram; 1amberogden and Twitter; MsAmberOgden.