12 Way to Be and Stay Healthy in the Workplace.
(BlackFitness101.com) There are so many temptations that surround us at home, on the way to/from home and certainly at work. At work, we have to be extra careful of the employee birthday celebrations and  staff luncheons. The pounds can sneak up on you if your not careful especially if you are seated in front of a computer all day. Here are 12 ways to be healthy in the workplace.
1. No Junk Allowed– Empty your candy bowl and get rid of all salty snacks such as chips, crackers, and other unhealthy snacks stashed in your desk. The less you're tempted by junk food, the healthier you'll eat. So replace it with fruit and sugarless mints if you need to keep your mouth busy.
2. Take the Time– It's easy to forget to eat when you're super busy at the office. Purposely block off 30 minutes each day to walk away from your desk and eat a healthy meal. You'll come back refresh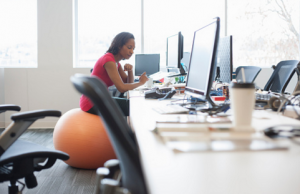 ed and re-energized for the remainder of the day.
3. Leftover for Lunch– Make an extra portion when you're cooking dinner each night, and you'll have a healthy lunch to take to the office the next day. You'll also save lots of money by doing this.
4. Plan Ahead– If you know you're going to eat two or three meals and two snacks at the office, plan ahead. Coming prepared will help you avoid getting too hungry and indulging in unhealthy junk food. Not sure what to plan, go online and search "healthy weekly meal plans".
5. Keep it Healthy– Avoid the vending machines at all costs. Instead, stock your desk drawer with dried fruit, packaged tuna, jerky, nuts, snack bars, and applesauce. If you have a mini fridge, stock up on fat-free yogurt, fresh veggies, and bottled water. Just have one day where you splurge on your favorite indulgence.
6. Water is a Must– Start each day with 12-18 oz. of water at your desk and make an effort to drink water often starting first thing in the morning. You'll stay hydrated and energized.
7. Add Some Balance– When planning snacks for work, choose snacks with a combination of carbohydrates, healthy fats, and lean proteins to boost your metabolism, increase energy, and feel fuller longer, such as a peanut butter and/or an apple with a handful of almonds.
8. Switch it Up-. There are plenty of ways to stay active during the workday and offset some of the damage done by sitting all day. Swap out your regular chair for an active seat like a yoga ball for a few hours, or spend a portion of the day working at a height-adjusted standing desk. You can also walk while you're taking your next conference call, to give you a physical and mental change of pace.
9. Walk it Out-. Every few hours, walk around and talk to a different person for 10 to 15 minutes. Not only will these short breaks improve circulation and reduce eyestrain and buildup of muscle tension, but they'll also help you build better relationships with employees, and might spark fresh ideas
10. Get Out– A packed lunch is often healthier and less expensive than take-out alternatives, but once in a while, treat yourself to go out and pick up lunch to get away from your desk. There are healthy choices.
11. Run Errands – If your schedule allows for it, save quick errands such as like depositing a check at the bank for work hours. You'll get some fresh air and a mental break from the task at hand, and you can cross off the task from your after-work to-do list.
12. Relax and Reset – Meditation is becoming a more popular way to stay focused and reduce stress at work. Sneak in 10 deep breaths while you're getting your morning coffee or even at your desk when you put the phone down after a call.
Following these rules are not full proof. Following a regimented diet and workout plan will also be helpful to maintaining a healthy lifestyle over all.
Staff Writer; Amber Ogden
One may also view more of her work over at; AmberOgden.com.
Also connect via Instagram; 1amberogden and Twitter; MsAmberOgden.