Step and Keep the Water Flowing.
(BlackFitness101.com) "CBS reports that while most people know perfectly well that water is the way to go, up to 75 percent of the American population fall short of the 10 daily cups prescribed by the Institute of Medicine – which, in medical terms, means that most people in the U.S are functioning in a chronic state of dehydration."
Dehydration is hard on the average person, and even more so dangerous for women that are pregnant. It is important that you remain active for your health and that of baby, but the workouts are unsafe when you don't drink adequate water. Drinking eight 8oz glasses of water simply isn't enough when you are carrying a baby. Granted you may encounter difficulty drinking adequate water if you are dealing with morning sickness or have an aversion to water. as you sweat in the gym releasing toxins from the body you are also losing fluid that isn't being replenished if you are not drinking water.
This can also aid in experiencing severe cramping when working out and trying to stretch regularly. It is necessary to take water with you to the gym. You may not have had to drink during your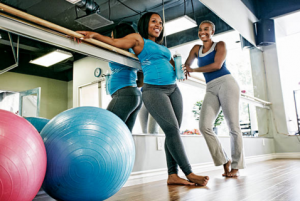 workouts in the past, but you will find it necessary while pregnant.
If drinking water is presenting a problem, there are many other ways to get the water you need. Many fruits such as melons and vegetables such as cucumbers can help supplement the water you need until you can get back to the water itself. Today many have smart watches that count our steps. Keeping up with your steps is another way to remain active while pregnant. Some aren't able to hit the gym due to difficulties with the pregnancy, however it may be easier to just walk at a comfortable pace. Even in this water is necessary. If you are determined to keep up with your steps add your water to that routine.
Avoiding dehydration is not just an asset when working out…it can prevent health challenges while alleviating others. Urinary tract infections tend to plague many women that are pregnant. Drinking adequate water can help you avoid having to deal with such, and any back pains that can intensify as a result of dehydration. Drinking water may help you get rid of the headache and dizziness that can present itself when pregnant. It can also help in the early stages as some women will have difficulties with terrible aftertastes to food that is necessary for wellness, as well as the increase in saliva.
Drinking water is always a necessity as dehydration can harm the body in many ways. When you are pregnant it can harm you and your baby. Dehydration can amplify any challenges you are facing while creating others. It can become impossible to keep up with a fitness regime of any sort when battling dehydration pregnant. Even if you don't like water you must make it apart of the things you must have everyday…all day. Yes, the going to the restroom frequently is annoying, especially in the middle of workouts, but that comes with the territory. Dehydration is a state to be avoided at all costs.
Staff Writer; Christian Starr
May connect with this sister over at Facebook; https://www.facebook.com/christian.pierre.9809 and also Twitter; http://twitter.com/MrzZeta.