Losing Weight vs Healthy Living: What's More Important?
(BlackFitness101.com) OK, so let's define the term "diet." This simple word used to encompass everything you eat and drink. However, over time, the term diet has come to symbolize a multi-million dollar industry aimed at a quick fix for our deepest insecurities.
Diets are aimed at restricting our food and beverage intake so that we can lose weight. Some diets restrict our carbohydrate intake. Others restrict our caloric intake. Diets usually fixate on what we put in our mouths, rather than what we do with our bodies, if that makes sense.
By focusing on restriction, the plan is that you will lose weight by eliminating something from your eating routine, or by cutting back on the amount of food you eat.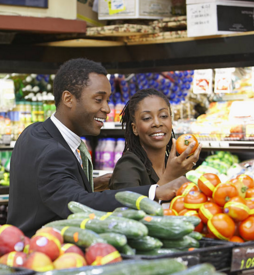 A healthy eating plan is a comprehensive program for improving your health by improving the quality of the foods you eat. Rather than focusing on the restriction or elimination of foods from your life, an eating program educates you about how foods impact your body so that you can make a learned choice when it comes to breakfast, lunch, and dinner.
Foods may be restricted or eliminated from your routine with an eating plan, but if so, it's because they are of inferior nutritional value. The focus is always on eating well so that you can be well. Here are four ways to lose weight and begin a healthy lifestyle.
1. Long term results
An eating program is focused on losing weight slowly over a period of time, so that you keep the weight off for good. Fad diets focus on shedding pounds quickly for fast, but often impermanent, results.
2. Holistic approach to weight loss
An eating program utilizes a holistic approach to weight loss meaning you have to implement healthy lifestyle changes to guarantee success. This means your eating program can embrace anything from exercise to meditation to help you lose weight. A fad diet usually focuses solely on what you eat and drink.
3. Concentrate on the means rather than the end
A healthy eating plan will focus on the means to get to your goal weight, not just on the end result. In other words, you are encouraged to educate yourself about food so that you can make healthy eating choices. Diets are usually highly regimented and tell you exactly what to eat and drink, rather than allowing you to make your own choices.
4. Balanced nutrition
A healthy eating program will allow you to eat fruits and vegetables and will encourage you to eat a balanced diet. You can usually spot a fad diet because it will focus on eating one type of food (such as the Cabbage Soup diet, or the Grapefruit Diet), or will eliminate one or more types of food from your life.
5. No gimmicks
A healthy eating program recognizes that, unfortunately, there are no quick fixes for obesity and obesity-related illnesses. And so, with that in mind, there are no gimmicks to these plans. You have to do the work for the long-term. A fad diet usually relies heavily on gimmicks to convince you that you can shed all the pounds you want just by following one simple rule.
What healthy tips are you using to live well and lose weight? We want to hear from you! Comment below!
Staff Writer; Amber Ogden
One may also view more of her work over at; AmberOgden.com.
Also connect via Instagram; 1amberogden and Twitter; MsAmberOgden.